New Diamond Mining District in Finland
To find valuable resources in a place where nobody expects them is the dream of every explorer.  That's what drove the thousands of adventures into the wilderness of the Yukon during the Klondike gold rush.  The allure of wealth and the sense of accomplishment of discovering something that no one else has seen before is what pushes explorers of all types.  The team at Arctic Star Exploration lives for moments like that and they are onto something big in the remote regions of Northern Finland.
Over the last year, Arctic Star's geologists have been digging around some newly discovered kimberlite pipes near the Russian border in Finland.  The pipes themselves are a new discovery but things really started to heat up when sample results showed diamonds in the core.  Finland isn't exactly on the map as a diamond mining district and that's what makes this discovery even more exciting.
When most people think diamonds, they think South Africa or Sierra Leone, not Finland.  Things were not much different in Canada prior to the 1990s.  When Chuck Fipke discovered the Ekati Diamond Mine in the early 90's, nobody thought there were diamonds in Canada.  Most people thought he was crazy.  That mentality played very well for the shareholders of Dia Met Minerals, Fipke's company that made the discovery.  Soon after news of the discovery broke Dia Met shares delivered multi-hundred percent returns to investors.
Canada is now the world's 3rd largest diamond producer and hosts several world class mines.  The staking rush that ensued after the Ekati find was something that hadn't been seen before.  Every mining company that had the capital was staking up swaths of barren tundra in Canada's Arctic to get a piece of the pie.  Over 70 million acres of prospecting permits were issued in the NWT and Nunavut.  Fipke and his partner are now worth billions and became overnight legends in the mining world.
Arctic Star's new property in Finland has all the makings of the 1990s staking rush in Canada. 
Arctic Star has some legends of their own.  Buddy Doyle and Roy Spencer are both experienced diamond geologists with a history of sniffing out world class diamond mines.  Doyle led the team that discovered Diavik, Canada's second diamond mine.  Diavik is located in the same region as Ekati and was discovered in a similar way.  Spencer led the team that discovered the Grib Diamond Field in Russia.  The Grib hosts the world's 7th largest diamond mine churning out 3 million carats annually.
Arctic Star's new property in Finland has all the makings of the 1990s staking rush in Canada.  It is a new district with newly discovered kimberlite pipes and they already have proof of diamonds.  One sample tested by Arctic Star revealed 111 micro diamonds from 48.65kg of split core.  That's an exciting result.  To put that into perspective, the discovery that put Canada on the map had 81 micro diamonds in 59kg of core.

Arctic Star's new property is called Timantii, which means "Diamond" in Finnish.  The two kimberlite pipes that have been found are referred to as the White Wolf and Black Wolf.  Arctic has taken a 100% interest in exploration permits covering 243-hectares around the two Wolf pipes.  As an insurance policy against a massive staking frenzy, they also staked a 95,700-hectare "Exploration Reservation" which gives Arctic Star exclusive staking rights for the next two years.
The Grib Mine, discovered by Spencer, is in close proximity to the Wolf Pipes.  The Grib and Lomonosova mines share the same geology as Timantii and are located nearby in Russia.  Both are multi-billion dollar deposits.  Finland offers several advantages over Russia for exploration and mining.  The infrastructure is much more developed, power lines, ports, and an expansive road system cover much of the region.  That cuts down big time on exploration costs.  Finland has an established mine permitting system and holds extensive geological databases and a core archive available to the public.
Kimberlite pipes, the remains of explosive volcanic events that bring diamonds to earth's surface, often occur in groups or clusters.  That is a good thing if you're looking for a mine.  Large scale diamond mines often mine more than one pipe.  The Diavik mine has 4 separate kimberlite pipes in production and the Ekati mine has 6.  On the Timantii project the White Wolf and Black Wolf kimberlite pipes are only 50m apart from each other.  That's a strong indicator of a larger cluster of pipes.
Arctic Star is planning an ambitious exploration program to map out and test more kimberlite pipes adjacent to the Wolf Pipes.  Exploration will utilize aerial geophysics to map underground rock features and hone in on the location of potential deposits.  Aerial magnetometry measures changes in Earth's magnetic field and is a great tool for diamond exploration.  Kimberlite pipes often have a different magnetic signature than the rock that hosts them.  That is because kimberlites were formed at a completely different time period.  Pipes typically form in vertical carrot shaped structures that show up well when mapped from the air with the right tools.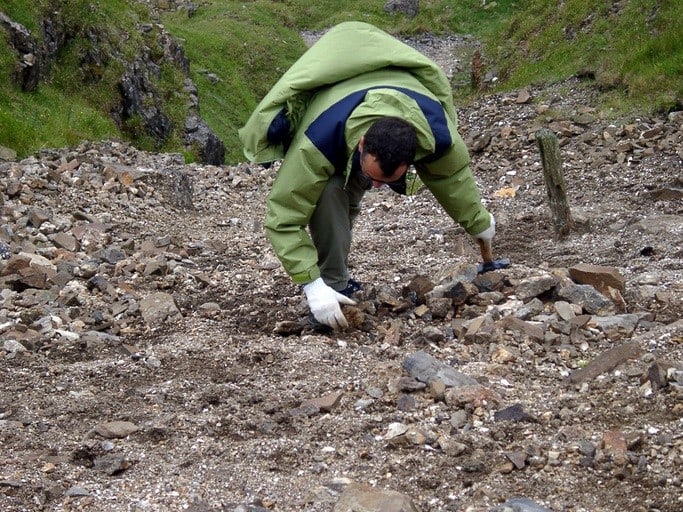 To confirm any magnetic anomalies, Arctic will also perform aerial gravity gradiometry surveys.  This tool measures the changes in the force of gravity influenced by the density of the rock.  Again, kimberlite pipes often have a much different density than their host rock.  Aerial electromagnetics will complete the trifecta of geophysical mapping and help narrow down drill targets for further exploration.  Till sampling will continue as well, to test for indicator minerals that may point to undiscovered kimberlite pipes.
The world will be watching as Arctic Star explores the next potential diamond district.  So far, they're on the right track.  The exploration team has a proven track record of diamond discoveries.  They have proof of diamonds in the Wolf Pipes and they have staked a big area to explore.  Time will tell if the Timantii discovery will ignite a staking rush like Canada had in the 90s.  Arctic Star Exploration is in a commanding position right now.  To make a big discovery it takes guts, experience and a willingness to venture into the unknown.  Arctic Star has all three.
Click to Visit the Arctic Star Website
Forward Looking Statements and Disclaimer
Forward-Looking Statements: Certain statements in this document are forward-looking statements within the meaning of applicable securities laws. Forward-looking statements in this press release include that the Timantti Project offers high potential for numerous further diamond-bearing kimberlite discoveries; Arctic's drilling and surveying plans and the expected outcome of those plans; that Arctic can swiftly discover more kimberlite on the property; that the Wolf kimberlites themselves may have the potential to be economic; that the property acquisition will close; and that the project may result in a billion dollar mine.
Such forward-looking statements and information are subject to risks, uncertainties and other factors which may cause our actual results, performance or achievements, or industry results, to be materially different from any future results, performance or achievements expressed or implied by such forward-looking statement. Specific risks included that Arctic may not be able to finance our intended acquisition or intended exploration and may not obtain regulatory approval for the transaction.
The Wolf kimberlites assets have not been the subject of any recent resource work, much less a feasibility study and as such there is no certainty that any future resource will be defined or be able to produce a commercially marketable product. There is a significant risk that any future efforts at the project will not demonstrate any merit for work to evaluate for a defined NI 43-101 compliant resource and economic study. General risks inherent in the Project include the reliance on available data and assumptions and judgments used in the interpretation of such data, the speculative and uncertain nature of exploration and development, exploration and development costs, capital requirements and the ability to obtain financing, volatility of global and local economic climates, possible political instability, share price volatility, estimate price volatility, changes in equity markets, increases in costs, exchange rate fluctuations and other risks involved in the mineral exploration and development industry.
Be advised, TickerForce and its employees are not registered broker-dealers or financial advisors. Before investing in any securities, you should consult with your financial advisor or a registered broker-dealer.

Never make an investment based solely on what you read in an online newsletter, including TickerForce's online newsletter, especially investments in thinly traded companies like Arctic.
Most companies featured in our newsletters, and on our website, are paying clients of TickerForce (including Arctic). In some cases, both Tickerforce and the writer of this report own shares in the companies we feature. For those reasons, please be aware that we are extremely biased in regards to the companies we write about and feature in our newsletter. Because our featured companies pay fees to us for our variety of services, including public relations, and we often own shares in the companies we feature, there is an inherent conflict of interest involved that influences our perspective on these companies. This is why we stress that you conduct extensive due diligence as well as seek the advice of your financial advisor and a registered broker-dealer before investing in any securities.  When investing in speculative stocks of this nature, it is possible to lose your entire investment.