Digital Marketing Is The New Investor Relations
Reach Your Audience, Drive Market Value
Digital marketing is the leader in today's investor relations campaigns. In the fast-paced trading environment, private, institutional and even non-traditional investors use digital content derived from social media to make decisions. Digital communications are outpacing all other means of conveying information of any kind to any group.
At the core of current digital marketing strategies is the use of analytic insights and key performance indicators (KPI) to optimize every phase of planning. A well executive strategic plan turns insights into ROI.
The mobile revolution is also well established across the globe. Mobile dominates the total minutes spent online, 71% in the USA, and 63% in Canada. Apps are driving the majority of media consumption activity, now accounting for 7 out of every 8 minutes of media consumption on mobile devices[1]. On smartphones, app activity is even higher, at 88% usage versus 82% on tablets.
Online Usage by Device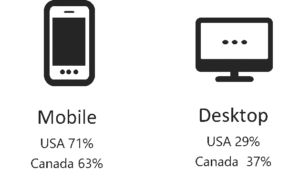 The business environment is global, active twenty-four hours a day and located on the world-wide web. The firms that are best able to communicate in the rational/emotional language of the people that are wielding influence, are leading the way. Content marketing and the associated digital wizardry which optimizes it are THE long-term strategy.
The Future is Digital
All around the business landscape, the most dominant firm's have realized that taking a longer view towards their markets and the customers driving them, yields better returns on investment (ROI). The McKinsey Global Institute recently published key findings they developed around their Corporate Horizon Index (CHI):
"Long-term companies exhibit stronger financial performance over time. On average, their market capitalization grew $7 billion more than that of other firms between 2001 and 2014. Their total return to shareholders was also superior, with a 50 percent greater likelihood that they would be in the top decile or top quartile by 2014. Although long-term firms took bigger hits to their market capitalization during the financial crisis than other firms, their share prices recovered more quickly after the crisis."
This data set was collected from 615 large and mid-cap US publicly listed companies and is based around analyzing patterns of investment, growth, earnings quality, and earnings management.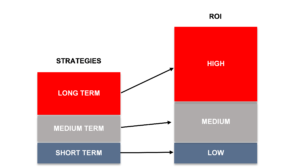 Overwhelmingly, this research supports the notion that long term, analytically guided and extensively researched digital marketing strategies are some of the best ways to drive investment and fuel innovation. Using the best technology available today to create an ever tested and constantly refined strategy is the absolute best way to support a culture of sustainable growth.
Optimize Conversion
Metrics such as Engagement on Website, Traffic Sources, CPM (Cost Per Mille), CPC (Cost Per Click), CTR (Click Through Rate), CPA (Cost Per Acquisition), Social Interactions, Landing Page Conversion Rates, Organic Searches, and Mobile Traffic Numbers are giving firms of all sizes the insight they need to communicate in the best possible ways with their target markets. As conversion rates improve, profits, reputation and investment capital flow in.
65% of senior marketing executives believe that visual assets (photos, video, illustrations and infographics) are core to how their brand story is communicated. Audio visual storytelling is revolutionizing the way business takes place and the way it's most central relationships are formed and sustained. Digital marketing is the new investor relations.
According to Hubspot: 4X as many potential investors would rather watch a video online about an opportunity than read about it!  More than 50% of internet users look for videos related to a product or service before making an investment. A niche targeted five-minute video could be worth many hours of time planning, preparing and presenting in traditional board room settings.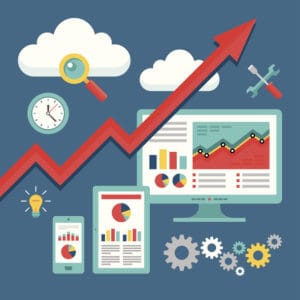 The answer is simple: designing high quality content is the best way to influence your market, expand your reputation and sustain investing interest.
As brand messages and communication are constantly assessed, they improve. Firm's that are willing to take the time to get to know their vision, audience, customers, strengths and challenges are transforming the world. Taking the long term view: using data collected about KPI to boost ROI and CRO are key to success. 96% of B2B buyers and investors want content with more input from industry thought leaders. This is a huge opportunity!
Influence is King
When a digital marketing strategy is optimized to engage with the multiple unique categories of customer profile within its market or industry, magic happens. Strategic B2B and B2C communications are essential elements of success.
A single media post shared across social media, supported by influencers and created with only the kind of unique attention to detail that big data can provide about audience demographics and psychological profile can accomplish in moments what could have taken hours, days or months in the old world.
The digital marketing landscape allows firms to reach their investors around the clock. To live near their hearts and heads in the form of consistently powerful branding shared frequently across blogs, websites, mobile applications.
While there will always be the need to conduct face to face meetings and prepare traditional presentations, as these tools shift into the cloud and mobile internet, a whole new world is being born.
There is no better two-way communication platform then what can be achieved with a modern digital marketing strategy hinging on high quality, market specific content. Digital marketing reigns in Investor Relations.
[1] comScore, The 2016 U.S. Mobile App Report, September 2016.